Tracks to the Future

, Railroad Transportation and Engineering
SYP 2022 is tentatively set for June 27-Jul 1.  There will also be a hybrid SYP program this year, with two days of virtual instruction and activities, followed by two days at a university location for hands-on activities and railroad tours.  Tht program will take place July 11-15, with university locations at Michigan Tech, the University of Illinois Urbana-Champaign, and Penn State Altoona.    You can find more information about the summer program HERE.
Our traditional summer youth program is a full week, in residence exploration of the rail industry and it's connections with other transportation modes.  The program this year will be hosted by the Michigan Tech Rail Transportation Program and will feature hands on classroom activities.  Field trips to will take us to rail industry sites around Michigan's Upper Peninsula.  
RTP Collaboration with University Education & Outreach Program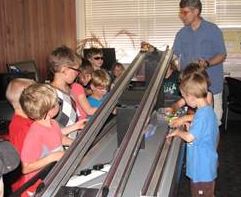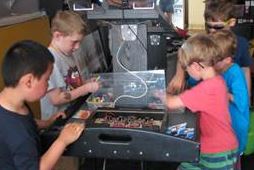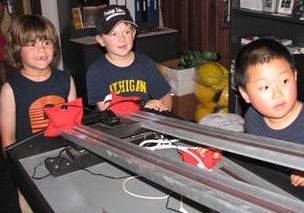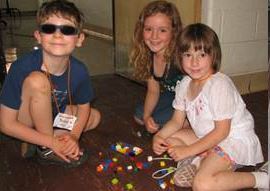 The Rail Transportation Program has begun to partner for elementary based programming with the Western Upper Peninsula Center for Science, Mathematics, and Environmental Education, a collaboration program with Michigan Technological University. Sessions engage students in STEM centered activities. RTP has enjoyed participating consistently with the program since the spring of 2013.

In one such event, the RTP collaborated to offer a session on 'Things That Move' to elementary aged students (pictured below). This session assisted youth to design planes, boats, and cars; make a traffic safety plan for their classroom and for their neighbor-hood, design a bike helmet, and plan the best way to move freight across the country. The RTP facilitated a mag-lev rail activity for a session led by Mr. David Nelson, that included a short lesson on how mag-lev trains operate, and the opportunity to build a model mag-lev train platform.
Another event that sprang from this collaboration was a Family Transportation Night, held at the Chassell Public School in April, 2013. Elementary school students and their parents attended an inquiry-based activity led by Michigan Tech students. In 2014 RTP students and staff have continued to work with the Center to assist with programming.
National Summer Transportation Institute
Michigan Tech's National Summer Transportation Institute is a two-week residential program that allows students to explore career and educational paths supporting today's transportation industry and future needs. The Rail Transportation Program contributes to some of the sessions.
Travel to exciting locations like the Mackinac Bridge Authority, which oversees the third-longest suspension bridge in the world, and the Soo Locks shipping canal between Lake Superior and the Lower Great Lakes. Do hands-on group projects, meet other talented students, and take advantage of career opportunities that exist in the transportation industry. Michigan Tech's National Summer Transportation Institute is a two-week residential program that allows students to explore today's top transportation industries. Competitive Scholarships are available. To learn more about the National Summer Transportation Insitute click here.
Education Workshop Series for Detroit Public Schools
22 teachers from the Detroit area met to participate in Dr. Pasi Lautala's rail transportation workshop, organized by Joan Chadde, on March 23, 2013. The purpose of the workshop was "…to introduce students to careers in transportation and provide teachers with a curriculum connection for teaching about transportation management via core subjects (math, science, social studies)". Dr. Lautala captivated his audience with presentations on many aspects of the rail industry, and how rail activities work with other transportation modes to provide a complete transportation system, using his unique experience set as global expert in rail activities. The workshop included a field trip to the Norfolk Southern Railyard. Teacher comments at the end of the workshop included; "The workshop was perfect!" and "I have a push-pull science unit to teach and the trains are a great way to do that."
Mind Trekkers Summer Camps
The Rail Transportation Program partners with Mind Trekkers with our Magnetic Levitation Track for sessions offered during youth programs in the summer at Michigan Tech.